VULVAGRAPHICS: AN INTERVENTION IN HONOR OF
FEMALE GENITAL DIVERSITY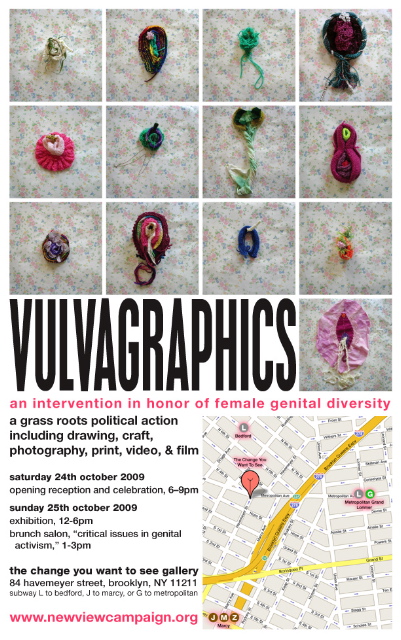 The New View Campaign organized an arts and crafts exhibit and political event titled "Vulvagraphics" on October 24-25, 2009 to celebrate the role of art in activism and to kick off a campus-based movement to celebrate genital diversity.
Here is the FINAL REPORT of the event [PDF]
I. New View Campaign Press Release about VULVAGRAPHICS (PDF)
II. Video, Wall, and Table Art shown in VULVAGRAPHICS:
Joanie Blank, Femalia
Gustave Courbet, Origin of the World
Betty Dodson, The Vulva Drawings; Viva La Vulva
Gene Greger, V
Amber Hui, Rachel Liebert, & Daniel Ward, The Fitting Room
Alexandra Jacoby, vagina vérité®
Dorrie Lane, Vulva Puppet
Rachel Liebert, International Vulva Knitting Circle
Zoe Markwalter, Addressing the Box
Nancy Redd, Body Drama
Annie Sprinkle, Zen Pussy
Judith Steinhart, VulvArt
SubRosa collective, Vulva De/ReConstructa
Laura Szumowksi, Tip of the Iceberg
III. Role of Vulva Diversity in Challenging Female Genital Cosmetic Surgery (FGCS)
Popular knowledge about women's vulvas comes disproportionately from commercial sources such as magazines, pornography, and on-line surgery sites that are likely to digitally alter or airbrush genital images or include only selected models. Most sex education texts focus on pregnancy and disease prevention and display few, if any, images of real bodies. There are very very few books that feature a range of real genital photographs, e.g., the acclaimed teen-oriented Body Drama (2008) by Nancy Amanda Redd and the pamphlet Femalia (1993) by Joanie Blank.
The result of this distortion and silence is widespread ignorance and genital shame which harms women and girls and results in vulnerability to ads and tv shows promoting cosmetic genital surgery. Websites of surgeons offering genital cosmetic procedures make misleading claims about sexual improvement and show standardized 'after' photos, creating a new, uniform, norm. For a typical example, click here
As a consequence, unsafe and unregulated cosmetic genital surgery procedures are increasing in popularity. Two important academic papers review this situation:
Liao, L., Machala, L. and Creighton, S. M. (2009) Labial Surgery for Well Women: A Review of the Literature, In press, British Journal of Obstetrics and Gynecology
Virginia Braun (2009). Selling the 'perfect' vulva: a critical analysis of surgeons' promotional websites for 'designer vagina' surgery. In Hayes, C., & Jones, M. (Eds.) Cosmetic Surgery: A Feminist Primer . Ashgate. For a copy, click here
Here is a recent and thoughtful analysis of FGCS vs. Female Genital Mutilation, written by Gbemisola Olujobi, a Nigerian woman who was "circumcised" in infancy and who is amazed at the many FFGCS/FGM similarities
Other resources can be found on the New View Female Genital Surgery Activism page.
IV. Activism challenging Female Cosmetic Genital Surgery
Both British and US academic centers have called for professional and regulatory actions to better inform the public, monitor the extent of the procedures, survey both online and print advertising, and ensure the safety of these procedures through competent and independent research. In 2008 The New View Campaign held a street protest to raise awareness about the growth of this unregulared industry, and called on groups including the American College of Obstetrics and Gynecology (ACOG) and the Consumer Affairs Division of the Federal Trade Commission (FTC) to increase their involvement and oversight in these matters. Read about our actions in 2008. This activism was covered by national and local media such as TIME magazine, Alternet online, and BUST magazine (PDF).
With our 2009 event, VULVAGRAPHICS, the New View Campaign calls for positive education about genital diversity to become part of comprehensive sex education and women's studies programming. We will be sending letters and handmade vulva drawings to campus women's centers and departments of women's studies suggesting art-as-activism events and offering the help of the New View Campaign. Our Listserv will be following these activities. Posters from event will be available for sale.
V. Additional resources on Activist Genital Art
EveryBody!: Visual Resistance in feminist health Movements, 1969-2000: This was a fantastic Chicago exhibit September 11-October 10, 2009 that included original work from more than a dozen artists and contributors.
The Vulva Museum, a rich online resource of historic and contemporary examples of positive vulva imagery in art, jewelry, sculpture, and graphic art.
For more information contact Rachel Liebert.